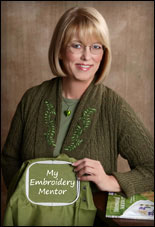 Meet the Machine Embroidery Experts (Part 1 of 2)
The Embroidery Mentor
Today is the first part of a two parts where I want to share information about resources for machine embroidery coaching and mentoring.
In today's post I want to highlight Deborah Jones, also known as "the embroidery mentor". I had the great pleasure to take a seminar that Deborah gave and meet her at the ISS Show in Long Beach earlier this year. Deborah is an instructor on Craftsy that you might want to check out.
Deborah Jones' Web Links
Below are some links to web resources for Deborah. I hope they help!